As the holiday season is quickly approaching many of us are thinking about gifts that give back. Here are five subscription boxes that provide fun products for kids and adults, but also donate to a variety of charities.
Karma Candle Club donates to Mercy for Animals, No Kids Hungry as well as The Life You Can Save.
---
Earthlove gives back to truly eco-friendly brands and partner with environmental non-profits each season who help heal our ecosystems.
---
Give the gift of creativity with Green Kid Crafts! Each box is 100% recycled. They also give back. They are carbon neutral and at least 1% of sales are donated to environmental organizations through their membership in 1% for the Planet.
---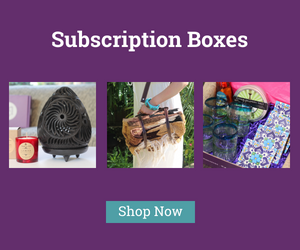 MyCajita has curated gift boxes with themes inspired by Mexico's culture, tradition, and lifestyle. They are deeply committed to their communities that they service giving back through special programs to provide opportunities for development and advancement. They partner with a variety of non-profits in, but not limited to, education, work and health programs.
---
For Purpose Kids. For every Toolkit purchased, 5 meals will be donated to kids at the Sunaayy Foundation, an organization in New Delhi India, that provides basic education, nourishment and support for underprivileged children ages 3-12 in makeshift, outdoor classrooms.
---
This post includes affiliate links to the subscription boxes but have been handpicked for inclusion because they do give back.